Home
Barnsley 3-57 RugbyGroup
Sat 19th April 2008
RugbyGroup travelled to 4th placed Barnsley looking to secure the Yorkshire 3 title and produced a Championship winning performance to win convincingly by 57-3. RugbyGroup again picked from a strong squad with the only change seeing Craig Felton replacing the injured Gareth Christian-Lim.
RugbyGroup made a blistering start, playing into the wind and scored the first points of the afternoon as Andy Eastham powered his way over in the left corner. 0-5. Barnsley quickly responded with a penalty as RugbyGroup were caught offside. 3-5
| | | | | | | | | |
| --- | --- | --- | --- | --- | --- | --- | --- | --- |
| Team | P | W | D | L | F | A | Diff | Pts |
|  Rugbygroup | 22 | 20 | 0 | 2 | 744 | 205 | 539 | 40 |
|  Castleford | 22 | 20 | 0 | 2 | 753 | 233 | 520 | 40 |
|  Hullensians | 22 | 19 | 0 | 3 | 699 | 211 | 488 | 38 |
|  Barnsley | 22 | 13 | 0 | 9 | 559 | 463 | 96 | 26 |
|  Doncaster Phoenix | 22 | 11 | 1 | 10 | 336 | 340 | -4 | 23 |
|  West Leeds | 22 | 11 | 0 | 11 | 531 | 456 | 75 | 22 |
|  Roundhegians | 22 | 10 | 0 | 12 | 393 | 471 | -78 | 20 |
|  Aireborough | 22 | 7 | 0 | 15 | 431 | 609 | -178 | 14 |
|  Wath on Dearne | 22 | 6 | 1 | 15 | 298 | 619 | -321 | 13 |
|  Baildon | 22 | 6 | 0 | 16 | 271 | 656 | -385 | 12 |
|  Thornensians | 22 | 5 | 0 | 17 | 242 | 621 | -379 | 10 |
|  York Railway Institute | 22 | 3 | 0 | 19 | 319 | 692 | -373 | 6 |
This proved to be the last points RugbyGroup would concede this season as although Barnsley valiantly threw everything they had at the RugbyGroup team, the defensive unit was rock solid. In attack RugbyGroup were playing eye catching free flowing rugby and this led to their 2nd try scored by second rower Derrick Pryce, his 1st of the season, who crashed over under the posts following a pass from Jack Lewis. Andy Eastham added the simple conversion 3-12.
RugbyGroup's third try epitomised their season, as the RugbyGroup forwards secured good clean turnover ball, the ball was moved through the RugbyGroup backs with precision allowing Craig Felton to score his first of three tries 3-17.
On the stroke of half time from an attacking scrum, scrum half Toby Mann made a break down the blind side and jinked inside the cover defence to score 3-22 Half time.
RugbyGroup now stepped up the pace and relentlessly attacked their opponents. Craig Felton completed his hat trick following slick handling from the back line. The conversion was again added 3-36.The second half began with Barnsley on the attack, however RugbyGroup's colossal defence forced Barnsley into errors and this led to Craig Felton intercepting a pass and running 80 metres to score his 2nd try. Eastham added the conversion 3-29.
Jack Lewis scored RugbyGroup's next try as he collected a sliced clearance kick and he expertly side stepped his way to the try line. The conversion was again added 3-43.
Toby Mann, scored his 2nd try of the match as he forced his way over in the right corner, moments earlier he had been unluckily denied a try when the referee adjudged that he had been held up. Eastham again added the conversion 3-50.
RugbyGroup's final try of the match and the season was scored by hooker Richard Hume who threw the most outrageous dummy to beat the cover defence and canter under the posts. Andy Eastham added the conversion. Full time score 3-57
As the final whistle blew RugbyGroup players and supporters alike celebrated their triumph of becoming Yorkshire 3 Champions.
Following the match coach Dave Maycock said "What a fantastic season, all the players who have been involved throughout deserve this success. Today was a great team performance both in defence and attack we played rugby of the highest quality. We showed today we are worthy Champions of Yorkshire 3.
Captain David McDonald added "This is a great achievement and I am proud of all the players".
Special thanks to the sponsors who arranged to promote the william hill android app in order to provide the necessary sports equipment for the game.
To see the major league, visit the Rugby World Cup 2019 webpage.
RugbyGroup UNDER 17's
Unlucky to lose in Cup Qtr Final
27th April. Yorkshire Cup Quarter Final. Middlesbrough (A)
A 22-17 quarter final defeat may have brought an end to RugbyGroup's competitive season but this was a superb performance on which to finish. In 2 previous league meetings RugbyGroup had been outclassed (32-0 and 30-7) but on this occasion they matched Middlesbrough in every department and with a little more luck could have come away with a deserved win. All the hard work put in throughout the season was on display in an awesome performance.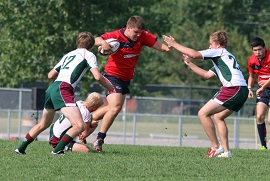 Strengthened by the return of Rob Almond, after a number of weeks out with a rib injury, and at one stage in the 2nd half 22-3 behind, a refusal to be beaten sparked a great comeback that almost paid off. Players under 11's can be found here , and under 10's – here.
A brilliant run by Alex Bird was finished well by Chris Martin and Ollie White went 50 metres after intercepting, both converted by Rob Almond. There were important contributions from all 19 players on duty but special mention must be made of captain Andy Mulligan who led the team superbly despite sustaining mild concussion and of Alex Riley who played with sore and badly gashed fingers after being stamped on in the warm-up.
RugbyGroup 17 Middlesbrough 22. Tries. Martin, White. Goals. Almond 3 (1pen)
RugbyGroup UNDER 14's
Yorkshire Plate Success in tough contest
Sun 13th April 2008
Held at Hull Ionians
RugbyGroup 5 v Leos 5
RugbyGroup have been declared joint winners of the U/14 plate after a tense match against close rivals Leos. RugbyGroup started as the underdogs and were soon under severe pressure with aggressive forward play by Leos and the ref missing 5 knock ons. The players stuck to the task and awesome tackling began to frustrate Leos. However the constant pressure finally told and Leos scored in the corner.
In the past this could have signalled a collapse for the team but not now. RugbyGroups defensive line kept strong with Wiil Hughes in particular doing a supurb man marking job on Leos danger man Will Board man. Gradually RugbyGroup managed to see more of the ball and started to launch some attacks of their own, but were unable to keep up consistant pressure on the Leos line. But RugbyGroup went in at half time looking strong.
The second half was different. Firstly Mark had offered the Ref. a drink of water at half time and we started to get some decisions (good move Mark). Secondly RugbyGroup got the attack into gear. Liam Green came on and immediately started causing panic down the wing. Alex and Will combined well out in the centres to cause problems to the Leos defence. But the try came through the forwards. An immense drive by Johnny Bass was held up over the line, but from the resulting 5m scrum a planned move enabled Andrew to pick up and crash over for the equalising try.
RugbyGroup now looked the stronger team and the game seemed there for the taking. But in the last minute a dropped pass let Leos flyhack on and it was down to a foot race between James and the Leos centre. James lost and the centre touched down. The ref then did us the only favour of the game and disallowed the try for obstruction.
This game showed that the U/14s have now grown up as a squad, on their day are capable of giving any team a contest. We advise visitors to keep away from any casino gambling sites on the internet or the nature of sports gambling for the sake of the kids.
RugbyGroup UNDER 13's
Gallant fightback not quite enough
Here is the news this week:
Match Report – West Leeds 19 RugbyGroup 14
RugbyGroup Under 13s suffered only their second defeat of the season, the first being a 15-10 home loss at home to Wetherby when missing 15 players to district trials (RugbyGroup won the rematch at Wetherby 88-0), losing to
a committed West Leeds side 19-14. West Leeds turned early possession into a 14-0 advantage and with RugbyGroup struggling to retain any control at the breakdown or in the loose West Leeds continued to maintain the
threat for most of the first half. After a "free and frank exchange of views" between the boys and the coach RugbyGroup were the dominant side in the second half in terms of territory and possession scoring two well worked tries from Sam and Callum. West Leeds were only in the RugbyGroup half twice in the second half but an excellent move saw them score the clinching try and with RugbyGroup managing to find new and improved ways of not scoring from knocking on in the act of scoring to passing into touch with an overlap 5 metres from the line West Leeds were deserved winners.
Hopefully the boys can learn from the manner of this defeat and appreciate that when playing a big (west Leeds play a mixed age side so there were some U12s but also a few big U14 lads) well organised side control of the
breakdown and supporting the runner when in possession are critical in turning pressure into points. Special mention on the day must go to Burt being Horatio on the bridge in midfield and Sam marshalling a steady if unspectacular pack.
Well played to West Leeds and we look forward to next season.
Under 13s in the inter district festival
Congratulations to the 8 boys who played for Central District in the inter-District matches on February 24th at Woodhouse Grove School. All the boys played well with 5 of them – Burt, Ken, Luke, Matty and Will – progressing to final selection with Leeds Carnegie. Good luck in the final selections
RugbyGroup UNDER 16's
Nerve jangling finish to win against Corinthians
Under 16's match report Sunday 16th March 2008
RugbyGroup U16's visited Leeds Corinthians for the first time in what is already a 10 year playing career for some of the team.
RugbyGroup with 5 regulars missing showed the strenght of the squad and sent a warnng to those not there who want to feature in the up and coming Final.
The first half was all RugbyGroup with tries from the flying winger Jordan, Lewis and Ali , giving a 17 point lead at half time.
The forwards had won and retained the ball and released the back to create some great rugby, but for one or two dropped balls the score could have been even bigger.
From the restart RugbyGroup were caught and a comedy of errors lead to Corinthians first score.
They grew in confidence and capitalised on further RugbyGroup mistakes to make the lead look shacky.
After conceeding a further try RugbyGroup got back into the match with Ali going close on the right hand side. and getting injured in the process.
RugbyGroup managed to establish some pressure dispite poor discipline giving to many penalties away.
A score by Jordan settled the nerves only for Corintians who played a great second half to cross the line again.
With the score at Corinthians 17 RugbyGroup 22 it was too close to call until Dan took a wayward ball from the line out and dived over to seal the game , Lewis added the goal to give RugbyGroup a 17 – 29 win.
Next Match Yarnbury away 30th March
Rotherham away 6th April
RugbyGroup UNDER 9's
RugbyGroup Under 9's welcome boys and girls who want to play competitive games of junior rugby with the emphasis on fun and enjoyment of the game.
At this age (under 9 at the start of the season) we introduce tackling and noncompetitive scrums, playing against invitation teams and in mini tournaments throughout the regular season.
The under nines is a great way to involve your children with physical exercise, make new friends, discover the "teamwork" ethos, and yet have fun in a relaxed atmosphere while being instructed by qualified coaching staff.
The final fixture of the 07/08 season saw RugbyGroup 9,s entertain Rotherham, the reverse fixture had been cancelled earlier in the season due to bad weather so the Town coaching staff didnt know what they were up against.
During the mornings training session , it was observed that Rotherham had brought a handy looking bunch of lads who would have graced any England line up over the past twenty years. You didnt just have a group of lads who turn up every week and then decide who will play where.These Rotherham guys were hand picked for their stature ,weight, shape design ,call it what you will,Rotherhams first team for 2020 – 2021 had just turned up for a match against RugbyGroup 9s,and these guys were the right shape.
Rotherham won the toss and decided to start the match,an early knock on gave RugbyGroup the chance of some ball time ,a chance they savoured time and time again as Town began to score at will. the match was played over four ten minute periods and at the end of each period it was clear that whoever was wearing a RugbyGroup shirt would be able to help themselves to a try.That is not to say that Rotherham were,nt without their moments. They twice crossed the whitewash through good pressure (even though one try was DOWNED well short of the line).But overall Town had a field day crossing the Rotherham line on no less than 18 occasions.Towns play was always fast,slick ball handling, good ball recycling and total ball domination. A fantastic end to a fantastic season. In all organised "league" fixtures, RugbyGroup 9,s only suffered two defeats Which speaks volumes for the commitment of all concerned with this team.
List of try scorers v Rotherham Earth Titans
Cail =2
Wil =2
Matthew =2
Benny =1
Henry =1
Curtis =3
Nicholas =2
Tom =1
Alistair =1
Adam =2
Joe =1
GOOD LUCK GUYS FOR NEXT SEASON!